Welcome!
---
From the President
Merry Christmas! I know it's a little early, but I just can't help myself. I love this time of year. Christmas Carols. Christmas movies. The Food. And the KCARC Christmas Party. Yep! It's time again for the annual KCARC Christmas party.
This year's party will once again be at Al's Mesquite Grill, 4801 Buffalo Gap Rd., on Monday, December 8th, 2014. The time for this month's meeting starts a little earlier… we will be able to start ordering at 6:30pm and we will be in the big room like we were last year. Please extend this invitation to you spouse or significant other. There has been some confusion in the past about this. Your YL/OM are always welcome at any club meeting, especially the Christmas Party.
We will once again be doing the Chinese Christmas Ornament exchange. Please bring and inexpensive, wrapped Christmas ornament to the party. Your spouse can bring one and participate as well. It's always fun to see who ends up with what at the end of the night.
Again, that's Monday night, at Al's Mesquite Grill, 4801 Buffalo Gap Rd. starting at 6:30pm.
CU There
de RJ

---
Officers for 2015
Ron Harden, KB5HGM, President
Kendall Thomas, KC5FFQ, Vice President
Tammy Harden, KB5NLP, Secretary
Peg Richard, KA4UPA, Treasurer
---
Radio Amateurs Play a Role in Separate Storm Responses
Amateur Radio volunteers activated on opposite ends of the US late last week and over the weekend as separate hurricanes struck Bermuda and Hawaii. Both regions were prepared and fared well with no deaths, serious injuries, or major property damage reported.
Hurricane Gonzalo
Hurricane Gonzalo, the stronger of the two storms, was a Category 3 hurricane when it made a near-direct hit on Bermuda on Friday, October 17. The Hurricane Watch Net (HWN) and the VoIP Hurricane Net (VoIPWX) gathered ground-level weather information from the island and funneling it to the National Hurricane Center's WX4NHC. Forecasters use these reports to better predict a storm's path or intensity. Hurricane Specialist Stacey Stewart used several Amateur Radio reports in NHC advisories, statements, and discussions, Assistant WX4NHC Coordinator Julio Ripoll, WD4R, said.
The HWN opened on Thursday, October 16, and stayed up for some 41 hours. The net used a primary frequency of 14.325 MHz and switched to 7.268 MHz as conditions warranted.
"It was a report from John [Stevens], VP9NI, that let us know the eye had made landfall on Bermuda," HWN Manager Bobby Graves, KB5HAV, reported. "His report made the 9 PM AST Tropical Cyclone Update." Graves said VP9NI's reports confirmed barometric pressure observations by Hurricane Hunter aircraft, and the NHC mentioned his call sign in its update. VP9NI's battery finally gave out just before midnight on Saturday, he added.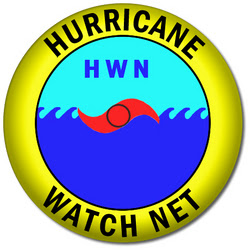 Only a weekend earlier, Tropical Storm Fay had hit Bermuda, and Graves said he learned during the Gonzalo activation that Fay had dealt Bermuda a bigger blow than he'd first heard. "Many hams had lost their antennas," he said, while other hams' antennas were seriously damaged. Some radio amateurs on Bermuda quickly constructed makeshift antennas in preparation for Gonzalo.
"Craig [Nikolai], VP9NL, was able to give us reports in the evening, as he only had a 40 meter dipole with one leg barely off the ground," Graves recounted. "John, VP9NI, gave us many reports on 20 meters until losing commercial power. With only a 20 meter NVIS antenna about 5 feet off the ground and using the battery from a computer UPS, John was able to continue feeding us reports hourly on 20 and 40 meters while running about 12 W." Other stations checking into the HWN included Glen Cuoco, VP9ID, and Ed Kelly, VP9GE. "Giving stations in the affected area advance notice of activation plans and gathering data as to what type of antenna and power output to expect really paid off," Graves added.
At WX4NHC, Julio Ripoll, WD4R, and Paul Hunt, K1MJS. [Julio Ripoll, WD4R, photo]
Nearly all of Bermuda's residents lost power, dozens of roads were blocked by downed trees and limbs, and some damage to structures was also reported.
Rob Macedo, KD1CY, Director of Operations for the VoIP Hurricane Net, which also activated for Gonzalo, said that while its key Amateur Radio contact was not on Bermuda, it was able to gather many reports from storm bloggers on the Caribbean Hurricane Network, social media outlets, and Weather Underground personal weather stations.
"We had constant contact with Marion Dyer in Pembroke, Hamilton, Bermuda, through the WhatsApp software via cell phone, and Cell One Bermuda service did remain up throughout the hurricane," Macedo said. Macedo said the VoIP Hurricane Net also received post-hurricane reports and photos from Dyer from around Bermuda.
Hurricane Ana
In Hawaii, the passage of Category 1 Hurricane Ana over the weekend was less dramatic, and the storm skipped the most-populated island of Oahu for the most part. ARRL Pacific Section Manager Bob Schneider, AH6J, reported that ham radio volunteers supported shelter communications as Ana passed by Hawaii, causing heavy rain, large waves, and some minor flooding.
"A request came from American Red Cross to deploy to the shelter at Ka'u High School in Pahala," Schneider said. The school is in the southeastern edge of the Big Island. "Sean Fendt, KH6SF, and I drove 45 miles and set up HF and VHF communications." (Sean Fendt's wife Kimberly, WH6KIM, is the East Hawaii DEC.)
Sean Fendt, KH6SF, at the Kau High School shelter.[Photo courtesy of Bob Schneider, AH6J]
"The shelter manager was very happy to see us, because in the last [weather] event they lost power and communications and had a full house. This time it was almost a non-event with the hurricane staying offshore to the south and west. There was quite a bit of rain and one road closure due to flooding. One couple that stayed in the shelter last night had been through several typhoons in Japan and didn't want to take any chances, even though later forecasts showed tracks well offshore."
Schneider said those later forecast tracks did not reveal the large amount of rain the storm brought along. The ARES volunteers primarily used HF on 40 meters, although they also made use of a VHF repeater that was linked to the Big Island Wide Area Repeater Network (BIWARN).
"We sent a couple of voice messages to SKYWARNheadquarters located at NWS in Honolulu," Schneider recounted. "Other weather spotters were using mostly Fldigi for messages to NWS. We were happy that there were no serious problems and power stayed up." Read more. — Thanks to the Hurricane Watch Net, the VoIP Hurricane Net, ARRL Pacific SM Bob Schneider, AH6J, and The Daily DX.
---
In June, 2014 with Congressman Adam Kinzinger (IL-16) as the sponsor and Congressman Joe Courtney (CT-2) as co-sponsor, HR 4969 – the "Amateur Radio Parity Act of 2014″ - was introduced into the 113th Congress.  This bipartisan effort would direct the FCC to extend the "reasonable accommodation" provisions for Amateur Radio antennas to include all types of land-use regulation, including deed restrictions and restrictive covenants.
---
Balloons Carrying Amateur Radio Payloads Still Circling the Earth
Three plastic foil-envelope balloons carrying Amateur Radio payloads and launched from the UK by Leo Bodnar, M0XER, remain aloft and continue to circle the Earth. The oldest, identified as B-63, was released on July 8 and became the second of Bodnar's balloons to circumnavigate the globe. The first to do so, B-64, went up on July 12 and had completed one lap around the Northern Hemisphere by July 31. Air currents have carried the balloon within 9 km of the North Pole and within 10 km of its launch site. The last balloon to make it around the Earth was B-66, which Bodnar released on July 15.
The B-64 solar-powered payload on a scale. [Leo Bodnar, M0XER, photo]
Each balloon carries a tiny 10 mW solar-powered transmitter that can alternate between APRS and Contestia 64/1000 digital mode on 434.500 MHz (USB). The Amateur Radio payload weighs just 11 grams.
As of this week, the B-64 balloon (M0XER-4 on APRS) was north of Moscow, Russia, at an elevation of more than 40,200 feet; the B-63 balloon (M0XER-3 on APRS) appeared to be located nearly 42,000 feet above South Korea, and the B-66 balloon (M0XER-6 on APRS) appeared to be nearly 44,000 feet above Ukraine. Notes on the M0XER-3 and M0XER-6 APRS pages flag their reported trajectories with "Seriously bad path," however, and add, "This station appears to be flying at high altitude and using digipeaters, which causes serious congestion in the APRS network. The tracker should be configured to only use digipeaters when at low altitude."
The numeral following the "B" denotes the number of similar balloons Bodnar has launched (B-65 failed to deploy). The transmitter stores positions during its flight and transmits a log file that can recall 5 days of previous locations in the comments field of its APRS transmissions. If it has been out of radio contact, however, a straight line will appear on the APRS map.
---
Field Day 2014!
Field Day 2014
---
Texas Radio Amateur Gives Up License As Part of Enforcement Action Settlement
04/22/2014
A Texas radio amateur has agreed to turn in his Amateur Extra class license as part of an agreement with the FCC to settle an enforcement action against him. The FCC earlier this year issued a Notice of Apparent Liability for Forfeiture (NAL) to James R. Winstead, KD5OZY, of Coleman, Texas, after determining that Winstead "apparently willfully violated" FCC rules by interfering with Amateur Radio communications. The Commission had proposed a $7000 fine. The action was in response other radio amateurs' complaints of intentional interference on 7.195 MHz.
---