Welcome!
---
Solar Storm Coming Saturday  9/14!
---
In June, 2014 with Congressman Adam Kinzinger (IL-16) as the sponsor and Congressman Joe Courtney (CT-2) as co-sponsor, HR 4969 – the "Amateur Radio Parity Act of 2014″ - was introduced into the 113th Congress.  This bipartisan effort would direct the FCC to extend the "reasonable accommodation" provisions for Amateur Radio antennas to include all types of land-use regulation, including deed restrictions and restrictive covenants.
---
Summits-on-the-Air Activity Weekend is September 13-14
North America Summits on the Air (SOTA) Activity Weekend 2014 is a casual event in which summiting radio amateurs (called "activators") use tiny battery-powered radios to work home-based operators (called "chasers").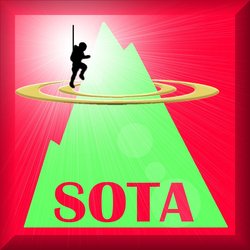 This year's event, September 13-14, is aimed at introducing SOTA to newcomers. There are no rules regarding power levels, modes, or bands.
SOTA operators have climbed mountains as high as 14,000 feet. They run low power, and they don't operate split, so operator courtesy is paramount.
The SOTAwatch2 website offers information regarding what stations are on which mountains. Summits are numbered, and mousing over the number will reveal the name and point value for each summit.
Activity typically concentrates near 7.032, 7.185, 10.110, 14.061, 14.342, 18.095, 18.155, 21.061, 21.350, 24.905, 24.955, 28.061, 28.420, 146.52, and 446.00 MHz. Participants collect points toward SOTA certificates and trophies. – Thanks to Elliott Pisor, K6EL
---
Balloons Carrying Amateur Radio Payloads Still Circling the Earth
Three plastic foil-envelope balloons carrying Amateur Radio payloads and launched from the UK by Leo Bodnar, M0XER, remain aloft and continue to circle the Earth. The oldest, identified as B-63, was released on July 8 and became the second of Bodnar's balloons to circumnavigate the globe. The first to do so, B-64, went up on July 12 and had completed one lap around the Northern Hemisphere by July 31. Air currents have carried the balloon within 9 km of the North Pole and within 10 km of its launch site. The last balloon to make it around the Earth was B-66, which Bodnar released on July 15.
The B-64 solar-powered payload on a scale. [Leo Bodnar, M0XER, photo]
Each balloon carries a tiny 10 mW solar-powered transmitter that can alternate between APRS and Contestia 64/1000 digital mode on 434.500 MHz (USB). The Amateur Radio payload weighs just 11 grams.
As of this week, the B-64 balloon (M0XER-4 on APRS) was north of Moscow, Russia, at an elevation of more than 40,200 feet; the B-63 balloon (M0XER-3 on APRS) appeared to be located nearly 42,000 feet above South Korea, and the B-66 balloon (M0XER-6 on APRS) appeared to be nearly 44,000 feet above Ukraine. Notes on the M0XER-3 and M0XER-6 APRS pages flag their reported trajectories with "Seriously bad path," however, and add, "This station appears to be flying at high altitude and using digipeaters, which causes serious congestion in the APRS network. The tracker should be configured to only use digipeaters when at low altitude."
The numeral following the "B" denotes the number of similar balloons Bodnar has launched (B-65 failed to deploy). The transmitter stores positions during its flight and transmits a log file that can recall 5 days of previous locations in the comments field of its APRS transmissions. If it has been out of radio contact, however, a straight line will appear on the APRS map.
---
Field Day 2014!
Field Day 2014
---
Texas Radio Amateur Gives Up License As Part of Enforcement Action Settlement
04/22/2014
A Texas radio amateur has agreed to turn in his Amateur Extra class license as part of an agreement with the FCC to settle an enforcement action against him. The FCC earlier this year issued a Notice of Apparent Liability for Forfeiture (NAL) to James R. Winstead, KD5OZY, of Coleman, Texas, after determining that Winstead "apparently willfully violated" FCC rules by interfering with Amateur Radio communications. The Commission had proposed a $7000 fine. The action was in response other radio amateurs' complaints of intentional interference on 7.195 MHz.
---
---
Officers for 2014
Ron Harden, KB5HGM, President
Kendall Thomas, KC5FFQ, Vice President
Tammy Harden, KB5NLP, Secretary
Peg Richard, KA4UPA, Treasurer